Dial Depth Gage SERIES 7 - 7200
• Optimal for hole, narrow groove and step measurement.

Technical Data
Dial reading: 0.01mm or .001"
Flatness of base face: 5µm or 2µm
Contact point: Carbide-tipped ball point(needle point:7210, 7222)
Measuring force: 1.4N (2.5N: 7213, 7214, 7217, 7218)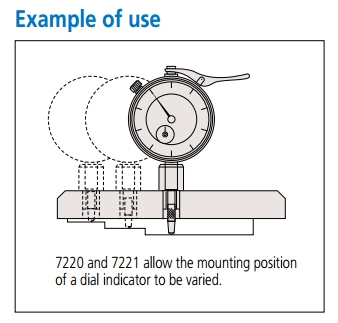 Note:
*1
Caution should be exercised when exchanging a contact point of a Depth Gage (Dial/Digimatic Indicator)
• If a different size contact point is mounted, displacement of the contact point from the base contact surface will be changed and as a result, measurement range may not be maintained.
• A contact point cannot be mounted to a Depth Gage, if its diameter is too large for the hole diameter of the base.
• Parallelism adjustment with the bottom face of the base is required when mounting a flat contact point such as the flat/needle or carbide-tipped contact point.

*2
Caution on should be exercised when using an extension rod
• If the total length of the extension rod exceeds 110mm (4.5") use the instrument in a vertical position (contact point downward).
• Use a master gage (such as Gauge blocks) to perform zero-setting when the extension rod is mounted. (Master gage is an optional accessory.)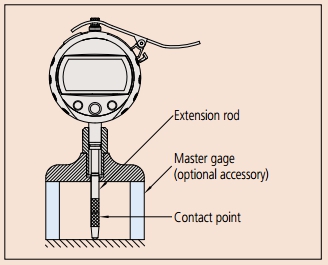 *3
Indicators
• Indicators for a Depth Gage is used for the Depth Gage. When the indicator is exchanged and extension rod is connected longer, the contact-point may incline signifcantly.
• Code No.543-400B / 543-402B for Depth Gage has a measuring force less than 1.5N.

Metric
Order No
Range
Graduation
Stroke
Accuracy
Extension Rods
Base WxThickness
Flatness
7210
0-10mm
0.01mm
10mm
0.015mm
-
40x16mm
5µm
7211
0-200mm
5pcs.(10,20,30,30,100mm)
63.5x16mm
7212
101.6x16mm
7213
0-210mm
30mm
0.03mm
3 pcs.(30,60,90mm)
63.5x16mm
7214
4 pcs.(30,60,90mm)
101.6x16mm
7220
0-200mm
0.015mm
0.015mm
5pcs.(10,20,30,30,100mm)
100x18mm
7221
10mm
150x18mm
7222
0-10mm
Ø16xmm
7223
Ø25xmm
7224
Ø40xmm
7231
0-200mm
5mm
63.5x16mm
Inch
Order No
Range
Graduation
Stroke
Accuracy
Extension Rods
Base WxThickness
Flatness
7217S
0-8in
.001in
1in
.002in
4 pcs.(.5,1,2,4 in)
2.5x63in
0.0002in
7218S
4x63in
7237T
2in
7238T
2.5x63in