Precision Cutting Machine Model: QG‐PCB30

เครื่องตัดละเอียดสำหรับห้องปฏิบัติการ
Brief Introduction:
QG‐PCB30 automatic precision cutting machine adopts the speed regulation motor which drives the belt to control the cut‐off wheel to achieve the effective speed.
With the touch screen control, the display is clear and the function layout is reasonable. The feed of cutting can
be controlled by cut‐off wheel propulsion or by cutting table propulsion according to the different materials or
personal habits, and also it can automatically finish cutting according to the set parameter.
With built‐in independent stainless steel circulating filter cooling water tank, combined with 80% water and 20%
cutting fluid, it can effectively avoid the sample surface heat and prevent rail and ball screw rust.
The machine has safety protection function for opening the cover. The working area is totally enclosed and has a
transparent cover for observation during cutting.
The cutting table can be equipped with different clamping tools which can be freely disassembled and cleaned.
This benchtop cutting machine can be applied to the cutting of PCB plate, metal materials within Φ30mm,
electronic parts and mounting samples, etc. The appearance is beautiful and the interface is easy to operate,
which is the best choice of the small piece cutting.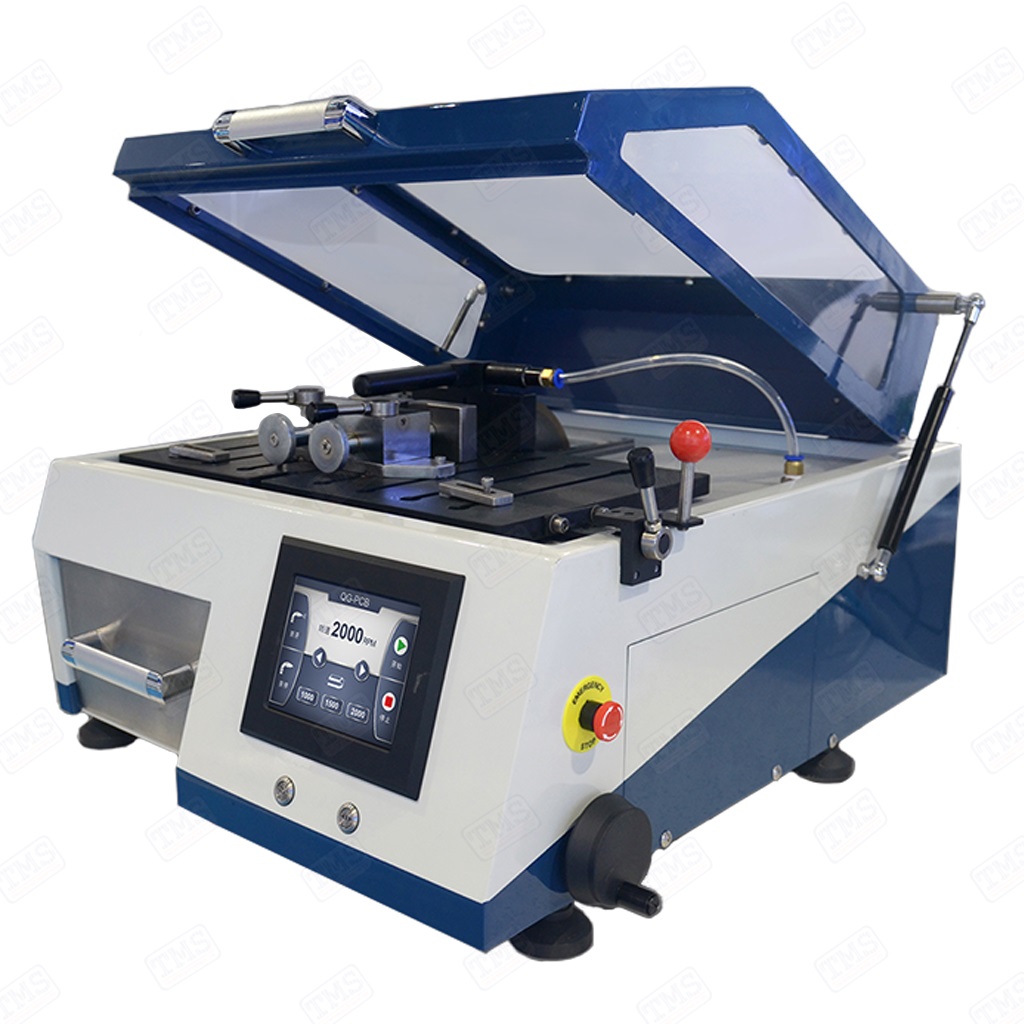 Technical Parameters:
| | |
| --- | --- |
| Model | QG‐PCB30 |
| Cutting Method | Manual / Automatic, Spindle feeding or Table feeding |
| Feed Speed | Manual / Automatic1‐36 mm/min (Step 0.1mm/min) |
| Cut‐off Wheel | Φ180×0.8×Φ22 mm |
| Max. Cutting Capacity | Φ 30 mm |
| Max. Travel | Spindle travel 140 mm, Table travel 230 mm |
| Spindle Speed | 500‐3000r/min |
| Electromotor Power | 1.2 kW |
| Cutting Table | 245×415 mm, T‐slot 8 mm |
| Clamping Tool | Quick clamp, Jaw height 45 mm; Vertical clamp, Opening 27 mm |
| Control and Display | 5.7 inch touch screen |
| Power Supply | 220V, 50Hz, 8A |
| Pump Flow | 16L/min |
| Dimensions | 620×740×380 mm |
| Net Weight | 80 kg |