Gauge Blocks
Length Standards Brought to You by Mitutoyo

Metric/Inch Square Gauge Block Sets
SERIES 516 — Metric Block Sets, Long Block Sets, Wear Block Sets

• Square gauge block sets have several unique characteristics (refer to page E-2 for details.).
A wide choice is provided to best match the target applications: sets containing from 2 to 112 blocks are available.

• Mitutoyo accessory sets are available for expanding the range of square gauge block
applications, especially for rapid assembly of precision gages.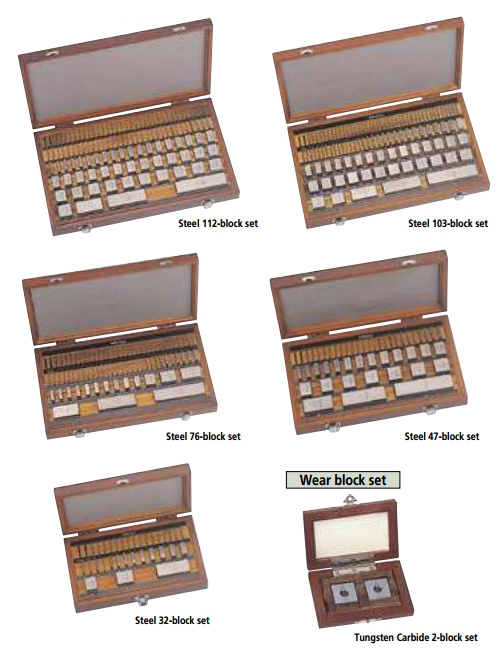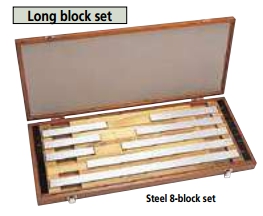 The wear to a frequently used square gauge block set can be drastically reduced by using tungsten carbide wear blocks on the ends of a stack. There are
two available, of nominal dimension 1mm and 2mm. These blocks are much more wear-resistant than steel blocks, and they also absorb most of the wear that
would otherwise occur to the blocks in the set due to contact, and therefore maximize the set's longevity.
Wear blocks are relatively inexpensive and can be readily discarded when no longer serviceable. To achieve maximum protection, the same face of each
wear block should always be wrung to a set block, so Steel 8-block set the opposite, wearing, face never touches a set block.

SPECIFICATIONS

Metric Block Sets

Blocks




per set




Order No.




Standard / grade available




Blocks included in set




Steel




CERA




ISO/DIN/JIS




ASME




Size




Step




Qty.



112
516-437
516-438
516-439
516-440
—

—
—
—
—
—

—
0:-∎0
1:-∎0
2:-∎0
—

00:-∎6
0:-∎6
1:-∎6
2:-∎6
—

1.005
1.001-1.009
1.01-1.49
0.5-24.5
25-100

0.001
0.01
0.5
25

1
9
49
49
4

103
516-441
516-442
516-443
516-444

—
—
—
—

—
0:-∎0
1:-∎0
2:-∎0
00:-∎6
0:-∎6
1:-∎6
2:-∎6
1.005
1.01-1.49
0.5-24.5
25-100



1
49
49
4

76
516-449
516-450
516-451
516-452
—

—
—
—
—
—
—
0:-∎0
1:-∎0
2:-∎0
—
00:-∎6
0:-∎6
1:-∎6
2:-∎6
1.005
1.01-1.49
0.5-9.5
10-40
50-100



1
49
19
4
3

47
516-457
516-458
516-459
516-460
—

—
—
—
—
—
—
0:-∎0
1:-∎0
2:-∎0
—
00:-∎6
0:-∎6
1:-∎6
2:-∎6
—

1.005
1.01-1.09
1.1-1.9
1-24
25-100



1
9
9
24
4

32
516-465
516-466
516-467
516-468
—
—

—
—
—
—
—
—
0:-∎0
1:-∎0
2:-∎0
—
00:-∎6
0:-∎6
1:-∎6
2:-∎6
—

1.005
1.01-1.09
1.1-1.9
1-9
10-30
60




1
9
9
9
3
1

Metric Long Block Sets

Blocks




per set




Order No.




Standard / grade available




Blocks included in set




Steel




CERA




ISO/DIN/JIS




ASME




Size




Step




Qty.



8
516-751
516-752
516-753
516-754

—
—
—
—

—
0:-∎0
1:-∎0
2:-∎0

00:-∎6
0:-∎6
1:-∎6
2:-∎6

125, 150, 175
200, 250
300, 400, 500

25
50
100

3
2
3

Metric Wear Block Sets

Blocks




per set




Order No.




Standard / grade available




Blocks included in set




Steel




CERA




ISO/DIN/JIS




ASME




Size




Step




Qty.



2
516-820
516-821

—
—
0:-∎0
1:-∎0

—
—
1
—
—
2
2
516-822
516-823

—
—
0:-∎0
1:-∎0
—
—
2
—
—
2
*Suffx Number ( n ) for Selecting Standard and Certifcate Provided

ISO/DIN/JIS
Suffx No.

InspectionCertifcate

Calibration Certifcate




JCSS



1
O

—
6
O
O
ASME

Suffx No.

InspectionCertifcate

Calibration Certifcate

JCSS

1
O

—