Depth Gage
SERIES 527, 571 — Hook End Type

• The end of the main beam is hook-shaped to allow depth and thickness measurements of a projected portion or lip in a hole, in addition to standard depth measurement.
• Coolant proof models achieve IP67 protection level.
• Enables stable depth measurement with a resolution of 0.01mm.
•ABSOLUTE Digital Caliper (Refer to page D-6 for ABSOLUTE function.)
• Digital models display the compensation value by pressing the OFF switch to allow direct reading.
• Slider operation of the digital models is smooth and comfortable.
• Allows integration into statistical process control and measurement systems for models with measurement data output connector. Refer to page A-1.
• Battery: SR44 (1 pc), 938882. For initial operational checks (standard accessory)
• Battery life: Approx. 3 years under normal use (for digital models)
• Optional longer extension bases are available.

SPECIFICATIONS

Metric

Order No.

Range: L1 (L2 and L3)

Resolution

Accuracy*

Base (W×T)

Digimatic (LCD)

571-254-10**

10 - 160mm (0 - 150mm)

0.01mm
±0.03mm

100×6mm

571-255-10**

10 - 210mm (0 - 200mm)

Analog

527-401

10 - 150mm (0 - 150mm)

0.05mm

±0.05mm

100×6.5mm

527-402

10 - 200mm (0 - 200mm)

527-403

10 - 300mm (0 - 300mm)

±0.08mm

* Excluding quantizing error ** IP67 Coolant Proof model
Inch/Metric

Order No.
Range: L1 (L2 and L3)
Resolution
Accuracy*
Base (W×T)
Digimatic (LCD)

571-264-10

.4" - 6.4" (0 - 6")

.0005" / 0.01mm

±0.0015"/ ±0.03mm

100×6mm

571-265-10

.4" - 8.4" (0 - 8")

* Excluding quantizing error


Metric

Order No.
Range: L1 (L2 and L3)
Vernier reading

Accuracy*
Base (W×T)
Analog

527-411

10 - 150mm (0 - 150mm)

0.02mm

±0.03mm

100×6.5mm

527-412
10 - 200mm (0 - 200mm)

527-413
10 - 300mm (0 - 300mm)

±0.04mm

Applications

Applications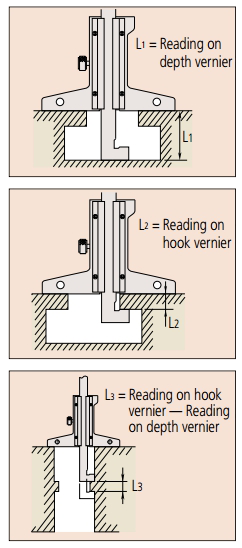 Optional accessories for digital models
For details, refer to page A-16.
Connection cables for coolant proof models
05CZA624: SPC cable with data button (1m)
05CZA625: SPC cable with data button (2m)
USB Input Tool Direct
06ADCV380A: SPC cable for USB-ITN-B (2m)
Connecting cables for U-WAVE-T
02AZD790A: SPC cable for U-WAVE with data button (160mm)
02AZE140A: SPC cable for footswitch

Dimensions