Calipers
An industry standard in measuring tools

Vernier Caliper
530 Series — Standard model

• Plain and basic design.
• Stepped graduation face prevents dust ingress between the main scale and slider.
• The small vernier face angle (14°) provides easy reading.
• Can measure outside and inside dimensions, depth, and steps.
• Carbide-tipped jaw calipers are optimal for rough fnished parts, castings, grinding stones, etc.
• Decimal and fractional graduated scales (metric/inch and inch models only).

Technical Data
Accuracy: ±0.05mm (≤200mm), ±0.08mm (≤300mm) ±0.10mm (≤600mm), ±0.15mm (≤1000mm)
High accuracy type: ±0.03mm (≤200mm), ±0.04mm (≤300mm)
Graduation: 0.05mm, 0.05mm (1/128") or .001" (1/128")
High accuracy type: 0.02mm or 0.02mm (.001")

Metric
Order No.




Range




Depth bar




Remarks



530-100

0 - 100mm

ø1.9mm rod

—

530-101
0 - 150mm

—
530-101

Blade

—
530-320


Carbide-tipped jaws for outside measurement



530-335


Carbide-tipped jaws for outside and inside measurement



530-122*


High accuracy model: ±0.03mm



530-108

0 - 200mm


—

530-321


Carbide-tipped jaws for outside measurement

530-123*


High accuracy model: ±0.03mm

530-109

0 - 300mm


—

530-322


Carbide-tipped jaws for outside measurement

530-124*


High accuracy model: ±0.03mm

530-501

0 - 600mm

—
—
530-502

0 - 1000mm

* Graduation: 0.02mm

Inch/Metric with metric/inch double scale

Order No.
Range
Depth bar
Inch graduation

Remarks
530-104

0 - 150mm
Blade

1/128"

—

530-316

1/128"

Clamping screw below the slider



530-312*

.001"

High accuracy model: ±0.03mm



530-114

0 - 200mm

1/128"
—
530-118*

.001"

High accuracy model: ±0.03mm

530-115

0 - 300mm

1/128"
—
530-119*

.001"

High accuracy model: ±0.03mm

Dimension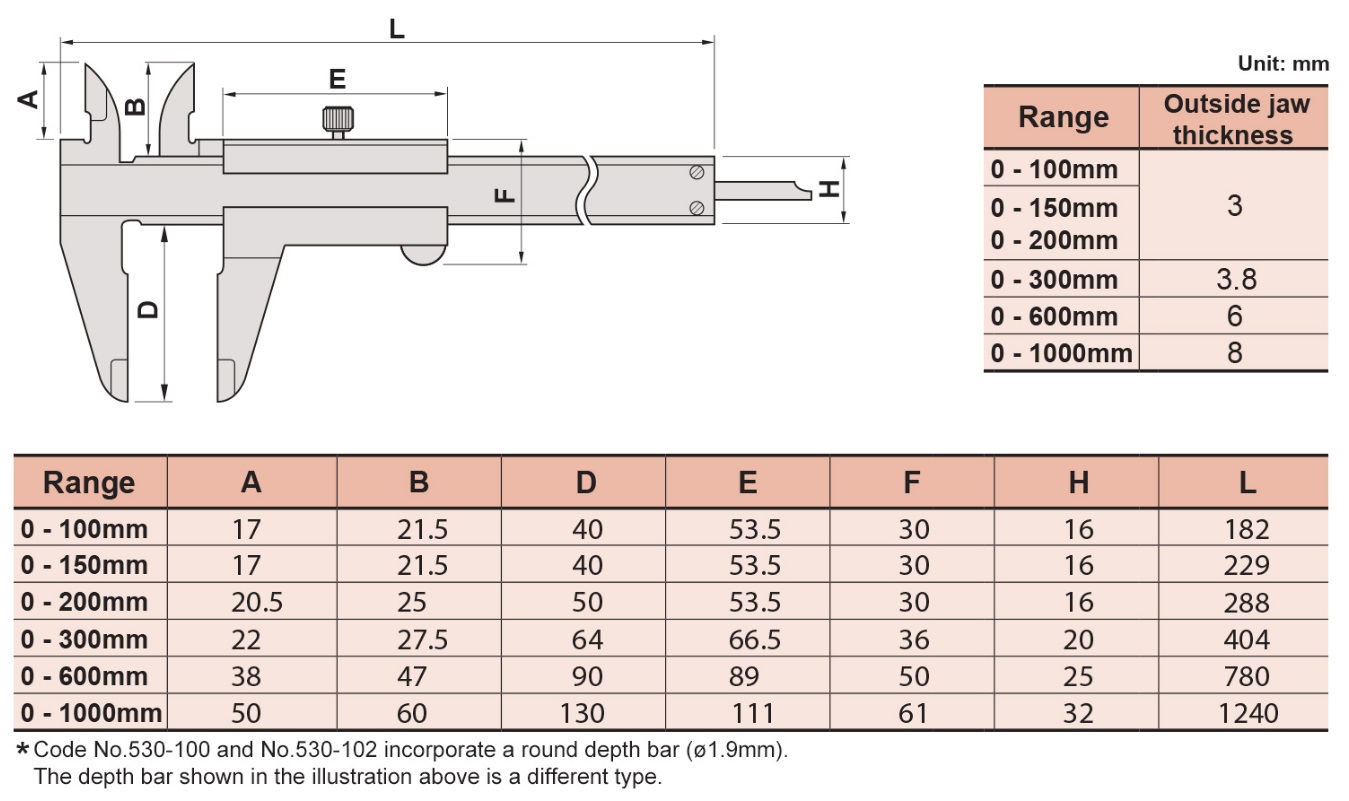 Measurement Applications