Automatic Non-Contact Video Measuring Machine

Brand : ARCS Model : MAX-PLUS Series (Big Travel Size)

Technology Features:

• Video system: High Resolution & High Accuracy CCD / High Speed Video Capture Card
• Magnification: 0.7x~4.5x (17.5x~112.5x) Standard Zoom lensOptional: Co-axial Lens
• Optional Objection Lens:
• 0.5x lens (For Standard Lens)
• 2x lens (For Standard or Co-axial Lens)
• 5x or 10x lens (For Co-axial Lens)
• Illumination: Adjustable surface and contour illumination
• (High Brightness Ring illumination)
• (Option: 26 Channel Multi-Sections Illumination)
• Linear scale: 0.5μm on X ,Y ,Z – axis
• Length Accuracy:
• ± (3.5+L/100)μm on X, Y-axis(MAX-6272)
• ± (5+L/100)μm on X, Y-axis(MAX-90120 and MAX120150)
• Repeatability: 2μm on X, Y– axis
• Motor: X, Y, Z Servo Motor
• Motor Operation: Mouse program (Optional: Joystick)
• Base: Precision granite table
• Power supply: 1~, AC220~230V, 50/60Hz

• Support software: SI-901
• Optional functions:
• SI-901A-Import Excellon File;
• SI-901B-with Touch Probe Function;
• SI-901C-with Rise Shrinks Bracket Function;
• SI-901D-with Image Capture Function;
• SI-901G-with Laser Measurement Function
| | | | |
| --- | --- | --- | --- |
| Model No | ΜΑΧ-6272 | ΜΑΧ-90120 | ΜΑΧ-120150 |
| Travel Size X. Y axis | 620x720mm | 900x1200mm | 1200x1500mm |
| Travel Size Z axis | 200 mm | 200 mm | 200 mm |
| Stage Size (mm) | 840 x 1180 | 1150 x 1730 | 1450 x 2000 |
| Stage Load Capacity | 25 kg | 25 kg | 25 kg |
| Travel Speed (Max.) | 180 mm/sec. | 180 mm/sec. | 180 mm/sec. |
| Dimension (mm) | 1780 x 1500 x 1700 | 2280 x 1800 x 1780 | 2570 x 1800 x 1780 |
| Net Weight (kg) | 1200 kg | 2300 kg | 3400 kg |
Automatic Non-Contact Video Measuring Machine

Brand : ARCS Model : MAX-PLUS Series (Big Travel Size)

Image Measuring Software

The SI software has the user-friendly operation interface for multi-purpose measuring tools. This diverse and convenient gathering tool can conform to many current ways of measuring work pieces in complex industries, which gives the user a fast, accurate, and complete measurement.
SI-901 Automatic Vision measurement Software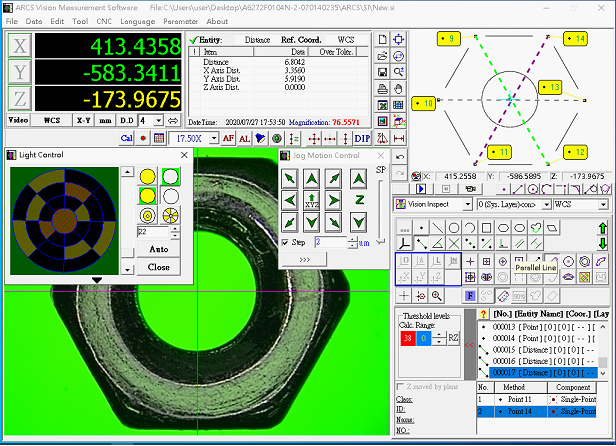 SI-901A : Import Excellon File
This is the File Format for Drilling program of PCB Industry.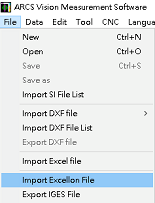 SI-901B: With Touch Probe Function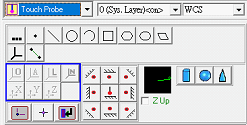 SI-901C: With Rise Shrinks Bracket Function
For Observation and Analysis of the Distribution Pattern on Drilling Holes of PCB.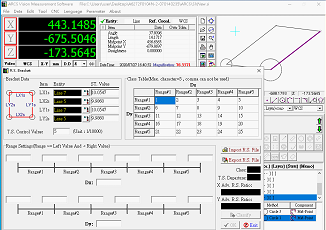 SI-901D: With Image Capture Function

SI-901G: With Laser Measurement Function