ARCVISON Brand DigiRock BRV3 Digital Universal Hardness Tester
Product Feature
◆ DigiRock BRV3 is a universal hardness testing instrument for the measurement of Brinell,
Rockwell and Vickers scale.
◆ DIgiRock BRV3 equips 7-testing-foce and 5-indenter, it is universal to measure most of metal material.
◆ DigiRock BRV3 dwell time from 2 to 60S can be setup on LCD panel, it is much convenient
than the setup on the manual hardness tester;
◆ DigiRock BRV3 loading, dwell and unloading is driven by electronic motor automatically, doesn't need the
operator to handle it, it eliminates the human operating error maximum;
◆ DigiRock BRV3 doesn't need the operator to read and check the

Software Introduction
Function Introduction of Panel Keys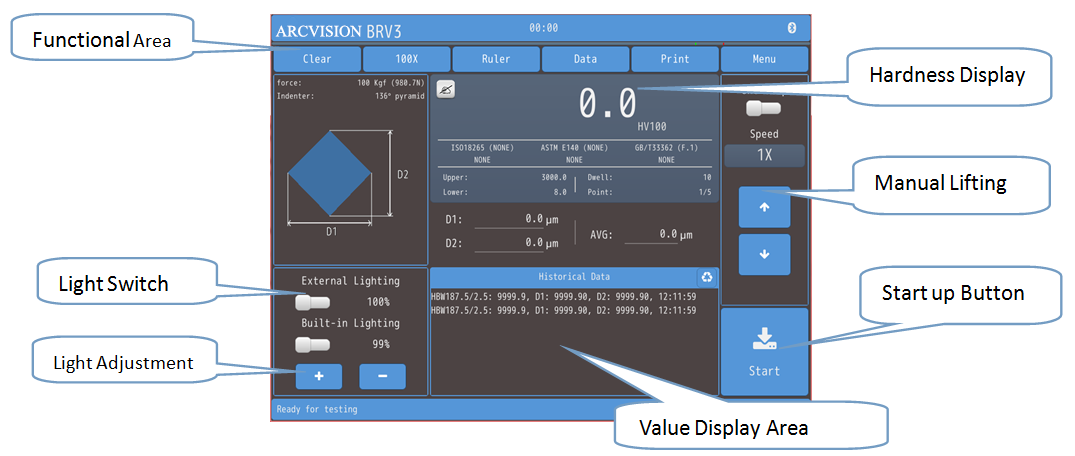 Function of the buttons
Print button -print test data
Start button -start working cycle
Clear button -d1 and d2 are cleared when measuring Vickers and Brinell
Menu button -select test parameters
Menu operation


Tap the required measurement ruler on the main screen by hand, and press the save
button to return to the new operation interface.
If you want to select the holding time and modify the year, month and day, the operation
method is the same as above, touch the up and down sliding keys to increase or decrease.
the most commonly used dwell time Rockwell is 5 seconds.
Specification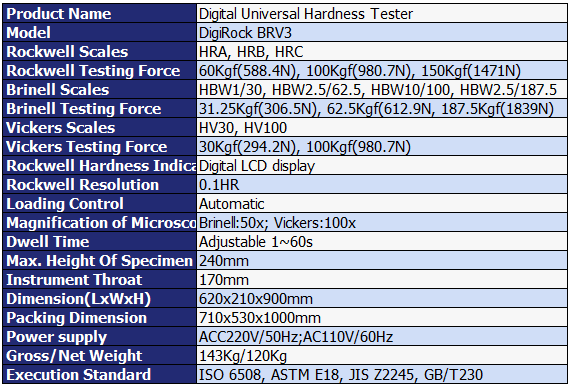 Application
Rockwell B Scale HRB: Copper alloys, soft steels, aluminum alloys, malleable iron, etc.
Rockwell C Scale HRC: Steel, hard cast irons, pearlitic malleable iron, titanium, deep case hardened
steel, and other materials harder than B100.
Rockwell A Scale HRA: Cemented carbides, thin steel, and shallow case-hardened steel.